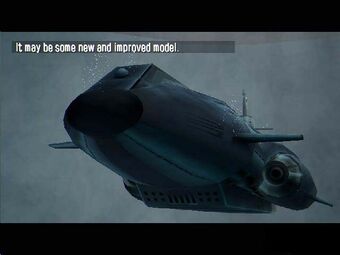 The superships, are the Flagships of the virshian navy, they are different kind of this weapons, from a super hight speed cruisier, going to a deadly submarine, to a super bomber, or the naval ops classic supership the "Drunna skass" but in this game there is an alternative ship, more powerfull, the "Suflibour Negla" , Superships are the combination of massive artillery, and better guns than the player, but they also have a weak point, for exemple, the Archeopteryx, the super bomber, have a incredible speed, but has a very weak armor, or the Arahabaki and the Amaterasu, both have a incredible offensive but they are weak in the rear, superships are also the main problem of the naval conflict, the most powerfull of all the superships is the "Suflibour Negla" , That its the Druna Skass, but more powerfull, in Naval Ops: Commander, there is a new kind of Supership, The "Brillodein" That is like a U.F.O but very well armed it appears in the mission "Close Encounters"
NOTES
-You can obtain some weapons and hulls which bear strong resemblence to those used by the superships, such as the wavegun, or the Drillship. However none of the obtainable hulls will be able to match the size of even the smallest supership.
-Superships always appear at the end of each area, but as the game progesses you will fight more and more superships in multiple stages of the same area. (You can optionally fight two in Area B, two in Area C, three in Area D, three in Area E, four in Area F, and four in Area G)
-Superships can not be destroyed by escorts.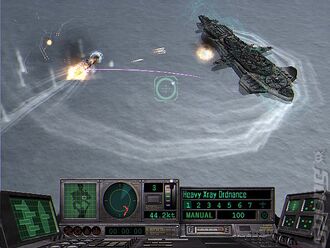 -Air attacks are useless at most of the superships.
The supership list and threat level is (sorted by first appearance):
Wirbelwind..............LOW
Dreadnought...........LOW
Nautilus (optional)...MEDIUM
Archeopteryx..........LOW (BUT VERY ANNOYING)
Dual Crater.............LOW
Sturmwind.............MEDIUM
Trollslegur.............MEDIUM
Brillodein...............MEDIUM
Musspellheim........MEDIUM
Harima..................HIGH
Arahabaki..............MEDIUM TO HIGH
Amaterasu.............HIGH
Druna Skass..........HIGH
Druna Skass 2.......HIGH
Arahabaki 2...........HIGH
Sufilbour Negla.......VERY HIGH (RECOMENDED TO USE A WAVE GUN)